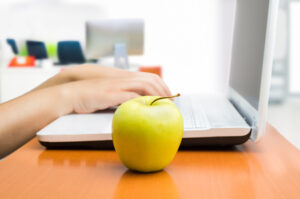 There are many benefits associated with encouraging your employees to lead healthy lifestyles. Healthy employees tend to be more productive and take fewer sick days, for example. Check out a few of our favorite tips for promoting healthy workplace eating habits below!
Order healthy food options for office parties.
When you order food for an office party, it might be tempting to call up the local pizza place and ask them to deliver a few pies. But is that really the right choice for your employees? Rather than ordering greasy takeout options, offer your employees more nutritious foods at parties instead. A "Make Your Own Salad" table can be a lot of fun, and it will give your employees an opportunity to try healthier foods.
Hold contests that promote healthy eating.
Losing weight on your own can be a challenge, but losing weight as a team? That can be all the motivation your employees need to drop some pounds. Consider offering rewards like a day of paid time off if they're able to lose 'X' number of pounds as a group. Not only can this foster healthy diet and exercise habits, it can help build camaraderie among your employees as well.
Stock vending machines with nutritious foods.
What's inside the vending machines in your office? If you're only offering things like cookies and chips, it may be hard for your employees to find healthy snacks throughout the day. These days, you can find a variety of healthy vending machine options that are great alternatives to traditional sodas and salty snacks.
To learn more about all the healthy food options we offer at Orsino Vending, give us a call or contact us online today!