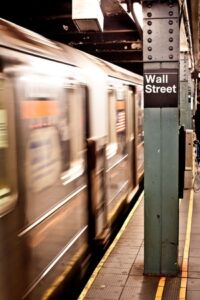 In Japan, vending machines are remarkably popular. The country has the highest density of vending machine with more than 5 million machines across the country. You can kill time waiting for a train by getting everything from a shot of sake to bananas and fish soup from a vending machine. Vending is so ingrained with Japan's subway culture that just this year a vending machine made from a recycled subway car was rolled out in the Tameike Sanno Subway Station.
Perhaps inspired by their Tokyo Metro counterparts, the New York City Transit Authority is now in the process of converting empty newsstands into vending machines.
Currently, around 40-percent of the MTA's 326 retail spaces stand empty. These spaces used to house newsstands that sold everything from newspapers to snacks and toiletries. In recent years, however, the decline in purchases at the stands has left many of them closed.
In response to the shuttered stores, the MTA has been prototyping a number of new ideas. Recently, an underground market called the Turnstyle Project that offers food vendors, retail space and popup shops opened at Columbus Circle. The market also hosted popup stores at other empty locations in the system. Now, the MTA will deploy vending machines in some stations as well.
The new vending machines will start rolling out later this year. Although a spot of sake might make waiting for A-train more interesting, there are currently no plans for vending alcoholic beverages. Instead, the vending machines will sell food, drinks and a few personal necessities like toiletries.
The project is still in the planning stages of development, so there has been no announcement regarding which stations will be targeted first. The MTA has said they will not displace any current newsstand vendors or place vending machines in competition with them. The rollout is expected to begin this summer, just in time for commuters and tourists to be thankful for a cold drink at the press of a button.