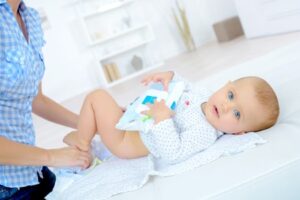 As any parent knows, traveling with kids can be stressful, especially when you're underprepared.
That's exactly what happened to Alaska mom Jasmin Smith, who found herself without a diaper for one of her twins at an Anchorage mall. After creating a makeshift replacement out of a pair of underwear and paper towels, she came up with a better solution—and a business opportunity.
Smith created Baby Vend, a vending machine that can be a life-saver for traveling parents. The machine sells diapers, along with a variety of other supplies that parents might carry in their diaper bags, such as changing pads, pacifiers, sippy cups and changes of clothing in case of an accident. Baby Vend also carries items for breastfeeding mothers, including nursing pads and lactation cookies.
The first Baby Vend machine was recently installed at the Ted Stevens Anchorage International Airport, and Smith plans to install more around the city.
The entrepreneur has bigger plans as well, and hopes to take Baby Vend national someday. She recently attended a casting call for the business-focused reality show "Shark Tank."
"I eventually want Baby Vend to be anywhere a parent is that travels or has family outings," she says.
We may not sell baby products, but you can count on Orsino Vending for all of your snack and beverage needs. We've been proudly serving the residents of New Jersey for over 20 years, and will even set up a vending machine at your location for free. Give us a call at (201) 871-9286 or contact us online to learn more.