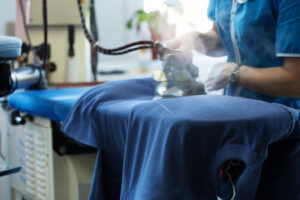 Dry cleaning your professional attire is a great way to prolong the lifespan of some of your nicest clothing, but taking weekly trips to the cleaners can be a huge hassle. Wouldn't it be nice if there was a simpler way to dry clean your clothes without being forced to add one more thing to your to-do list?
In London, many commuters can now drop off their dry cleaning on their way to work thanks to a local company called VClean Life.
This startup recently introduced vending machines called VDrop machines that are designed to make dry cleaning easy for busy professionals who can't always make it to the cleaners. Now, commuters can deposit their clothing in one of the machines—which are conveniently located in London Underground stations throughout the city—and have them dry cleaned, folded and ready to be picked up in just 24 hours.
To start using VClean Life's unique new service, all people have to do is sign up for it online and receive a QR code from the company. Using this code, customers can drop clothes off at any VDrop machine in the city. Then, the clothing will be picked up, transported to a facility owned by VClean Life, dry cleaned and returned to the same machine in under a day. Despite the added convenience, the service expected to cost a fraction of the price of working with a traditional dry-cleaning company.
At Orsino Vending, we're always excited to see what companies like VClean Life are doing with vending machines these days. We're also working hard to provide companies with everything they need to incorporate vending machines into their own businesses. Call us at (201) 871-9286 to get started today!