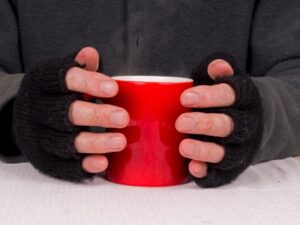 Winter can be hard on the homeless populations in the U.K., but a charity called Action Hunger is employing a unique new strategy to make life a little easier for the country's most vulnerable citizens. Recently, the charity announced plans to stock a vending machine in Nottingham, England with necessities like fresh fruit, sandwiches, toothpaste and socks that can be accessed by the city's homeless population free of charge. Many of the food items are being donated by local supermarkets.
Key cards will be issued to homeless individuals based on their level of need by partner organizations such as counseling centers and shelters. These key cards will grant access to three vending machine items per day.
"We want our low-cost solution to complement other services that are available, as engagement with professionals and local support services is instrumental to breaking the cycle of homelessness," says the charity's website.
Action Hunger has only deployed one of its vending machines so far, but the charity already has plans to install more machines in Manchester, London, New York, San Francisco, Los Angeles and Seattle as well. Homelessness has become an increasingly prevalent issue in many cities in recent years, and the founders of Action Hunger hope that their vending machine service, in conjunction with other local charities and government outreach programs, might help to alleviate homeless rates across the globe.
To learn more about Action Hunger and how you can get involved in their efforts to combat homelessness, you can visit the charity's website here.