Sandwiches are an excellent lunchtime meal. They're easy to make, convenient to eat on-the-go, and taste great! However, after a while, you may need to change up your same old sandwich, like adding a flavorful side! What goes better with a sandwich than a bag of your favorite salty chips? Certain chips pair exceptionally well with different types of sandwiches. Consider one of these combinations on your next lunch break!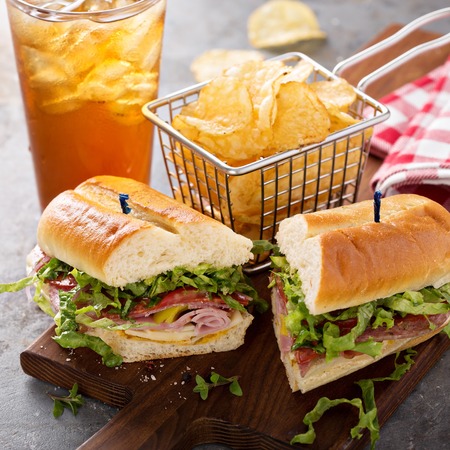 PB&J and Classic Potato Chips
One bite of a PB&J sandwich will bring you back to your childhood. It's nice to indulge in a sandwich filled with creamy peanut butter and tart jelly. Take your lunch to the next level by pairing it with a bag of classic potato chips. The contrast between the chips and the sandwich is incredible. The sweetness of the sandwich makes the saltiness of the chips stand out even more!
Tuna Salad and Barbecue Potato Chips
The semi-sweet, smoky, barbecue chip is another beloved lunchtime staple. Believe it or not, it pairs wonderfully with a tuna salad sandwich. To make your sandwich extra flavorful, try adding the chips right into your tuna fish mixture. Adding chips creates some unique, bold, and smoky tastes and adds an extra crunch to your sandwich.
Meatball Sub and Doritos
When it comes to Italian food, the cheesier, the better. Your warm, cheese-filled meatball sub pairs well with the slightly spicy, cheese-dusted crisp. This mouthwatering combination is flavorful and a great lunchtime comfort food.
Ham and Kettle Cooked Salt and Vinegar
With any sandwich made with deli meat, contrasting flavors is the key to a great pairing. The tang of the salt and vinegar chip compliments well with ham. Add lettuce, tomato, and mayo to your sandwich to help reduce the sour aftertaste of the vinegar. Together, the two balance each other out perfectly.
There are plenty of delightful chip and sandwich pairings that you can choose from or create yourself. Next time you're on your lunch break, stop, and look at all your options in your vending machine. At Orsino Vending, we want to provide you with snack vending machines filled with delicious choices that will pair well with your sandwich and satisfy your hunger throughout the day.