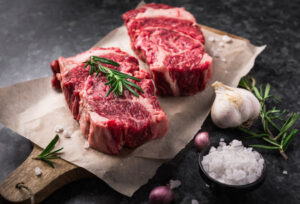 Need a cut of steak at a moment's notice? If you happen to be in New York City, you can have 24-hour access to fresh beef, pork, lamb and more thanks to a series of new vending machines at the Applestone Meat Co. butcher shop. The shop's owner Josh Applestone was reportedly inspired by the automat designs of the 1950s.
"I remembered Horn & Hardart [the '50s automated luncheonette, whose last new York outpost closed in 1991]," said Applestone in an interview with Bloomberg. "There were very few people providing nonstop food. I put two and two together."
Applestone's meat vending machines look similar to the carousel-style fresh food vending machines you might see in schools and office buildings. Applestone currently has vending machines in two locations on the outskirts of NYC, and he plans to expand his operation to at least three more locations by 2019. He's also in the process of developing custom-made machines that are expected to be ready by next year. Whereas his current vending machines can hold about 150 items each, his new machines will be able to hold as many as 1,000 items at once.
Ultimately, Applestone would like to bring his vending machines to neighborhoods in other cities across the country as well. He hopes that the 24/7 machines will offer a convenient source of fresh food to people whose hectic lifestyles may keep them from making it to the grocery store after a long day of work. Thus far, his vending machine enterprise has been enormously successful. According to his interview in Bloomberg, Applestone's vending machines in Stone Ridge, New York currently account for about 70 percent of his total sales.
Want to outfit your workplace with a modern fresh food vending machine? You can find a number of great options at Orsino Vending! Give us a call or contact us online today to get started.