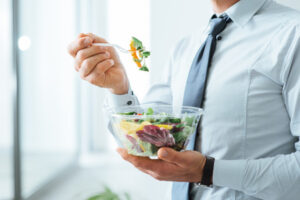 It's 1 pm, and your stomach is rumbling as you sit at your desk. A slice of pizza or a burger might sound delicious right now, but resist the temptation. You can easily create healthy workplace meals with these helpful tips:
Fill up on Fruits and Veggies
At least half your plate should be made up of fruits and veggies, which will provide you with the vitamins and nutrients you need to stay alert throughout the day. Eat the rainbow; choose produce in a variety of colors, such as red peppers, broccoli and leafy greens.
Include Lean Protein
Your lunch should always include a source of lean protein, such as Greek yogurt, seafood, poultry or eggs. Lean protein boosts your metabolism and keeps you full for much longer than if you just ate carbs. Vegan? Go for pulses, like lentils or chickpeas.
Stick to Whole Grains
Refined carbs, like white bread or regular pasta, won't do the trick of satisfying your hunger all afternoon. Whole-grain products are a much healthier and more filling choice.
Add Flavor
Eating a flavorful meal at work will keep you satisfied and give you something to look forward to. Use fresh herbs, spices and even hot pepper. Just skip the fat-laden salad dressings and go for high-quality olive oil and balsamic vinegar instead.
For all your snack and drink cravings in between meals, you can rely on Orsino Vending. We've been proudly serving the residents of New Jersey for over 20 years, offering healthy snacks, beverages and more to a variety of commercial clients. We'll even set up a vending machine at your location for free! Give us a call at (201) 871-9286 or contact us online today to learn more.