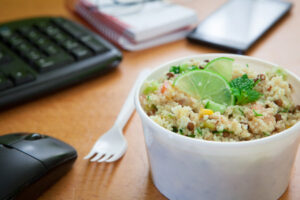 If you find yourself reaching for a greasy fast-food hamburger or slice of pizza on your lunch break, you're not alone. According to a recent survey published by the American Heart Association in cooperation with the food services company Aramark, more than half (56 percent) of American workers struggle to make healthy lunch choices at work.
The survey also suggests that your lunch choices on the clock have an impact beyond your time at work.
More than three-quarters (77%) of respondents said that they're more likely to make healthy decisions throughout the day if they eat a nutritious lunch in the workplace.
Why don't these workers just pack healthy meals, you might ask? Well, many of us clock long hours and have plenty of responsibilities outside of the workplace, which means that brown-bagging it every day isn't a realistic choice. According the survey, 79 percent of workers ate food from an on-site cafeteria or vending machine if one was available.
That's why the type of food available in the workplace makes a serious difference. Most of the workers (68 percent) indicated that they'd like help from their employers to make more wholesome meal choices.
Want to offer your employees healthy lunchtime options?
At Orsino Vending, we offer fresh-food vending machines that make it easier to eat healthy at work. We've been proudly serving the residents of New Jersey for over 20 years, offering nutritious snacks, beverages and more to a variety of commercial clients. We'll even set up a vending machine at your location for free! Give us a call at (201) 871-928 or contact us online today to learn more.