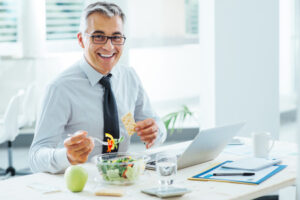 Maintaining a healthy diet can be a challenge for anyone, but it tends to be especially difficult for people who have very busy schedules. Who has time to look for the healthiest options when there is so much else that needs to be done? It won't always be easy, but you can eat well even during your most hectic work weeks. Here are some tips to help you get started!
Schedule time to eat throughout the day
From meetings with clients to drinks with friends, you schedule everything else that you do throughout the day. So why not schedule breakfast, lunch, dinner and even snacks, too? Go through your schedule at the beginning of every week and set aside times to eat. Set reminders for yourself so that your phone tells you when it's time to step away from your desk and grab a bite. This way, you won't forget to eat altogether.
Put together a list of healthy eating options
One of the toughest parts about watching your diet is deciding what you're going to eat. You can take the guesswork out of the equation by generating a list of the healthy options available to you. When it's time to eat a meal or a snack, you won't have to rack your brain thinking about what you're going to eat. All you'll need to do is consult your list and choose whichever option sounds best to you at the moment.
Ask your office to add healthy options to vending machines
Does your office have vending machines in the break room? If it does, you should request that the office manager stock them with some healthy options. If these options aren't available in your office's current machines, you might also suggest that they invest in a fresh food vending machine. This will give you and your coworkers quick, convenient access to healthy snacks whenever you need them.
Interested in learning more about all the healthy food options we offer in our machines at Orsino Vending? Give us a call or contact us online today to speak with a representative!