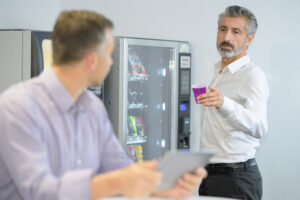 If you own a business or manage an office, you might be under the impression that vending machines will hurt, rather than help, workplace productivity. After all, if employees are busy eating and drinking items from the vending machine, won't it cut into the time that they should be working? But the truth is that vending machines can actually increase productivity if you install the right options. Here are a few ways they will help.
Provide employees with food and drinks.
In order for your employees to work effectively, they need to eat and drink throughout the day. If they aren't hydrated and well fed, it could have a negative effect on productivity. By installing a vending machine in your workplace, you can give employees access to one of their most basic needs. This way, they won't be left sitting at their desks thinking about how much they'd like a bag of chips or a cup of coffee.
Cut down on the number of times employees need to leave the workplace.
You might be concerned about how much time your employees will spend walking to and from the vending machine throughout a day, but that time will be nothing compared to the time they would spend leaving the office to grab a bite to eat or a bottle of water. A vending machine can eliminate the need to leave the office and give your employees more time to work.
Allow your employees to take a break from time to time.
You obviously want your employees to work hard throughout the day, but taking brief 5 or 10 minute breaks can actually be very beneficial for their minds and bodies. A quick trip to the vending machine will help them to recharge and get back to business once they return to their desks. This, in turn, can help your employees make the most of their time at work.
Orsino Vending can provide your company with a variety of vending machines to increase productivity and keep your employees happy. From sodas and snacks to coffee and fresh foods, we have it all. We can also repair these machines should you have any issues with them. Give us a call today at (201) 871-9286 to learn more.