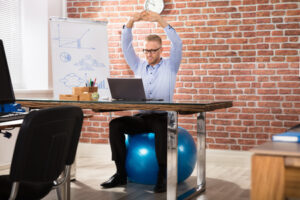 You're probably familiar with the benefits of regular exercise—in addition to keeping the pounds off, exercise can improve mood, energy levels and self-confidence. However, if you're like us, it often feels like there's no time to exercise between work, kids and, well, life!
But keep in mind that exercise doesn't have to mean spending hours at the gym. You can stay active during your 9 to 5 workday with these tips:
Commute Smarter
Instead of driving or taking public transit to work, could you walk, bike or even rollerblade? Just make sure your route is safe and dress appropriately for the weather.
Get Your Steps In
When you're at the office, try to walk as much as possible. Every hour or so, get up and walk around the office for a few minutes. Take the stairs instead of the elevator. Need to share something with a colleague? Walk over to her desk instead of calling or emailing.
Sit on an Exercise Ball
Swapping your desk chair for an exercise ball will improve your posture, strengthen your abdominal muscles and even help you focus.
Don't Forget to Stretch
Sitting in the same position throughout the day can be hard on your muscles. Take regular stretch breaks to relieve your neck, back and wrists.
Of course, no exercise regimen would be complete without a healthy diet. At Orsino Vending, we're proud to offer fresh food vending machines that make it easy to eat wholesome, nutritious meals at work. We'll even set up a vending machine at your location for free! Just give us a call or contact us online to get started today.