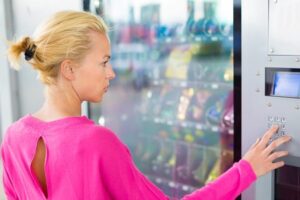 Vending machines have been around for decades.
What once was a leading source of snacks and beverages during the work and school day, vending machines now have to compete with food delivery services and food trucks.
With the millennial generation (those coming into adulthood in the year 2000 and after) gaining control in a variety of industries including vending, we are learning how to market and advertise to this diverse group of people.
The millennial generation grew up in an era where technology was taking a dominant stance in how we live our lives. Computers, smartphones, and other modern technologies have been second nature to this group, rather than a life skill for those in the older generations, who took the time to catch up.
So, in terms of vending machines, what can we expect from millennials?
They are attracted to vending machines that offer fresh and affordable foods and beverages with just a quick touch of a button.
There is a decrease in desire for sugary snacks and beverages from a rising awareness of obesity and heart health impacted by unhealthy eating.
Cash carry is virtually non-existent with paying options such as Apple Pay, Google Wallet, credit and debit cards. Smart vending solutions would be to include a machine that allows for a variety of payment types.
Mobile paying options largely depend on the proper placement of vending machine, where wireless access is strongest.
The millennial generation is a great demographic group to test out new vending technologies on as they are not intimated by new technology, but rather encourage it.
As the vending industry works toward making vending machine purchases more mobile savvy, we can expect that any changes will be met with gratitude and increased sales.
Orsino Vending works continuously to provide the latest technology within our vending machines.
Serving a wide variety of industries, you can guarantee that we strive to make the purchase of vending machine items more convenient and the selections healthy and plentiful.