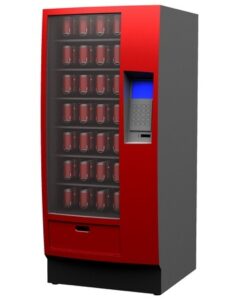 Vending machines are everywhere.
They are in offices, airports, malls, hotels, rest stops, health clubs, outside groceries stores; endless possible locations with a variety of drink options.
Any office with employees most likely provides vending machines to keep their employees happy and fed.
It's a perk like having a fitness center, day care facilities, or a cafeteria, a vending machine is a common amenity in most office buildings these days.
As an employer, what are you stocking your vending machines with?
What are your employees drinking?
Are they looking for Coke or Pepsi, regular or diet?
What about those who drink cold coffee or those who love energy drinks?
What about those people who just love water?
Yes, sales will tell you what is most popular of what you're already providing, but what about the things that you're not providing?
Why not let your employees tell you what you're looking for?
Conduct a companywide survey, and the results will not only benefit you as the employer but will also benefit your employees, as they will appreciate that you are thinking about them.
Orsino Vending has all your vending machine needs.
Contact Orsino Vending today and let a one of our representatives provide a free no-obligation consultation and help you meet the needs and exceed the expectations of your employees.