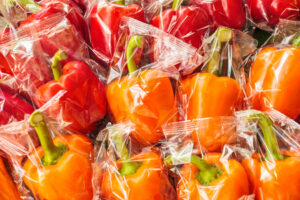 If you've purchased fresh food from a vending machine recently, you may have noticed that it came wrapped in transparent plastic packaging. This impermeable packaging is very effective at preventing fresh food from spoiling, but it's not especially environmentally friendly. That's why researchers at the Georgia Institute of Technology are exploring innovative ways to develop new food packaging materials made from natural fibers.
Earlier this month, the researchers announced that they have created a promising new material derived from crab shells and tree fibers that could one day serve as a viable replacement for flexible plastic food packaging. The material is made by spraying alternating layers of chitin from crab shells and cellulose fibers from trees to form a flexible, compostable and impermeable film. These two materials, chitin and cellulose, are the world's most common natural biopolymers.
"The main benchmark that we compare it to is PET, or polyethylene terephthalate, one of the most common petroleum-based materials in the transparent packaging you see in vending machines and soft drink bottles," says professor J. Carson Meredith of Georgia Tech's School of Chemical and Biomolecular Engineering. "Our material showed up to a 67 percent reduction in oxygen permeability over some forms of PET, which means it could in theory keep foods fresher longer."
The research team's biopolymer-based packaging sounds like a promising proof of concept, but they still have plenty of work to do to develop a cost-effective manufacturing process that can produce the material in large quantities. If they succeed in their efforts to mass produce the eco-friendly packaging, it could significantly reduce the amount of plastic we consume in vending machines and grocery stores each year.