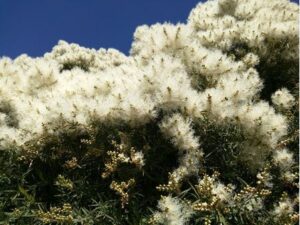 The vending machines you've seen here and there might not strike you as particularly environmentally friendly – how can a vending machine function while keeping the environment in mind, anyway? At Orsino Vending, though, we care about the Earth and are constantly looking for ways to make our operations cleaner and greener.
One of the best ways we look out for the environment is by using cleaning solutions made from melaleuca oil. Standard cleaning solutions can be pretty acidic or loaded with environmentally hazardous chemicals, but our solution provides the safest way possible to clean our machines. But what is this oil?
Melaleuca alternifolia is a tree species found in Australia. The oil that comes from this tree is perhaps better known to most people as tea tree oil, an essential oil distilled from the melaleuca tree and used in many different ways. Its properties have been known to act as an antiseptic, antifungal, antibiotic, anti-inflammatory and much more. It's also commonly found in some shampoos and conditioners.
One of its other many talents is that it can be used as a cleaning agent when combined with other ingredients. You can even make bars of soap – just combine two cups of melted glycerin soap base and two tablespoons of tea tree oil, stir, pour into soap molds and let them cool! Melaleuca oil is even used to treat acne, ear aches, athlete's foot and warts in some cases. Check out even more uses for tea tree oil on Mother Earth Living's website.
Given the many purposes and uses for melaleuca oil, it's not surprising that the oil can be used by our agents when cleaning vending machines. This tree oil is so great against mold, mildew and bacteria because of its high concentration of antimicrobial and antiviral properties. This also means that like many other essential oils, a little goes a long way, and it works great to keep our vending machines clean and sanitary.
Many companies chose cheap and harmful chemical cleaners, but we prefer the natural and effective tree oil route – and now you can see why. To learn more about our green efforts or to find out about adding a vending machine from Orsino Vending at your office or business in the greater New Jersey area, call us today at 201-871-9286.