Vending machines are a great addition to any workplace, campus, public park or other property where people congregate. These machines not only give people a convenient space to grab a snack, but they can improve work productivity, aid students who are pulling an "all-nighter" for a big exam and more.
To ensure the vending machines on your property are working as they should, it's essential they are getting proper maintenance from a reliable vending machine company. Proper maintenance will avoid items getting stuck, dollar bills being rejected and more.
For a more pleasant staff, student body or visitor on your property, make the smart move and have your vending machines regularly maintained.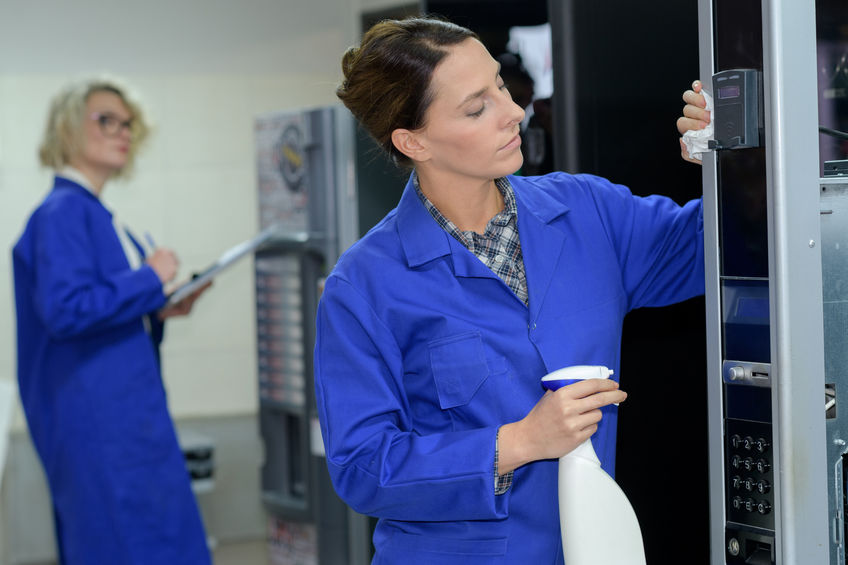 You'll keep employees, students happy
When the vending machines on your property are maintained correctly, there should be little to no user issues.
There's nothing worse than going to get a snack, only to find that dollars won't be accepted or that food is dangling from the end of the conveyer, just out of reach.
A maintenance team will properly oil all machine parts for the easy flow of products, make sure all screens and buttons are working, and that those pesky dollar bills are being accepted the first time.
Food and drinks will be safe
It's strongly advised that you hire a vending machine company with experience, and one that does things the right way. With a trusted vending company, you'll ensure the very best cleaning products are used (preferably those made from melaleuca oil), and that the purchaser is safe to eat their favorite snack.  
A professional maintenance team will also disinfect all surfaces on the machine when they come for regular maintenance, not only making the machine look clean, but making sure the system is germ free (which has become even more important in today's world).
The machine will last longer
Another reason for having vending machines maintained is to make sure they continue to run for years to come. It can be an inconvenience to everyone at your site if there are always people coming out to make repairs.
A maintenance team will check for proper airflow behind the machine, correct balance and more. The company can come at a time that works best for you for even greater convenience.
If you own a business in New Jersey and are considering adding a vending machine, we ask that you think of us at Orsino Vending. We have years of experience in the business and will not only make sure you have a fully stocked vending machine at your site, but one that is running effectively. To learn more about all we provide, give us a call today at (201) 871-9286.