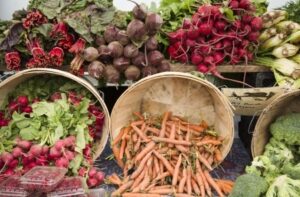 By now you've probably noticed that vending machines have undergone something of a renaissance in recent years. Not only are they safe and secure, they're also an affordable option for many vendors. And the best part? These days, you can find just about anything in them. Take this recent story from the Netherlands, for example.
As farm stalls and markets continue to grow in popularity, one company is testing a new way to bring that fresh farm produce to the masses: a vending machine!
The Lockblox is an innovative system that's being embraced by Dutch farmers across the country, offering a convenient opportunity for growers to sell their fruits and vegetables without raising their price tags or worrying about theft.
According to an article in FreshPlaza, one farmer loads up his vending machine with strawberries and asparagus before he leaves the farm on Sundays. This way, he knows that they won't run out by the time he returns. In the meantime, he can even check his inventory on VendingWeb, the app associated with the farm stall vending machines.
The Lockblox's creator, Sander Sciarone, said he wanted to change peoples' perceptions of what can be offered in a vending machine—instead of just soft drinks and snacks, why not fresh produce?
At Orsino Vending, we love hearing stories about how the vending machine industry is innovating to meet new market demands and consumer behaviors. Interesting in adding a fresh food vending machine to your office or storefront? Give us a call or contact us online today to learn more!